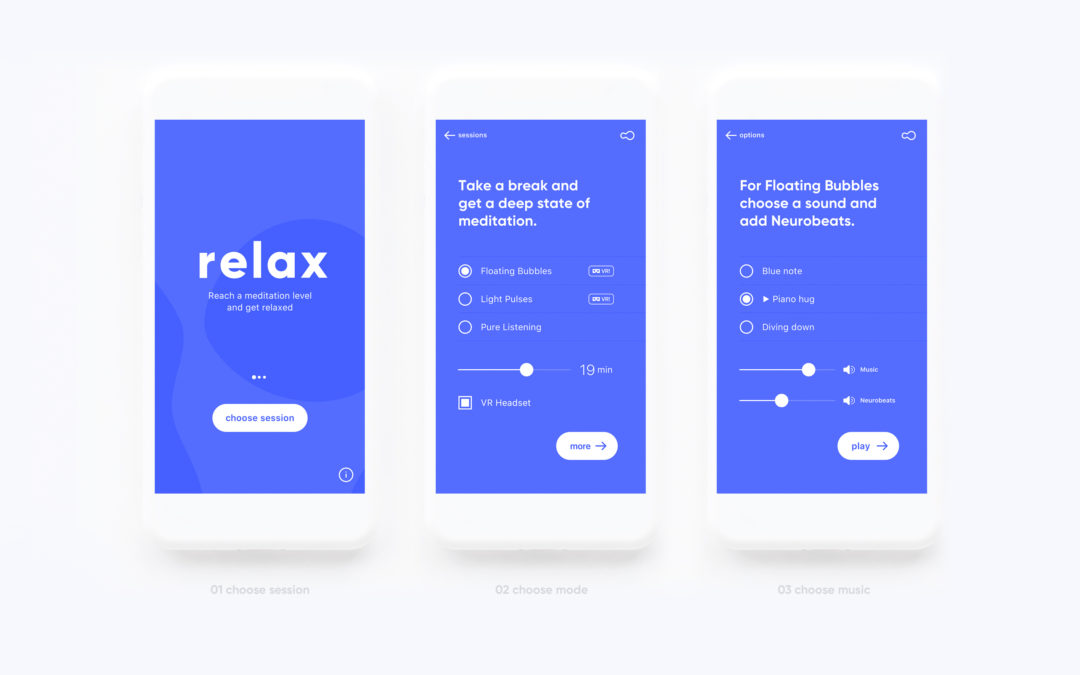 There are currently many relaxation apps on the market. Remood, the first smartphone app 'for relaxation, creativity and focus', wants to bring virtual reality into the lives of consumers. Compared to other audio-visual mind machines which are better known in the field of neuroscience, remood is the first mobile mind machine which doesn't involve expensive hardware. The user simply needs a smartphone, a comfortable VR-headset and headphones. On starting the app, three customizable sessions can be chosen. Depending on the desired mood, the application can produce a relaxing (relax), creativity inspiring (revive), or concentration building (reload) effect. The VR mode option is a definite advantage – but not a necessity. With pulses of light and gently moving shapes in 360° space, the user can dive into a completely individual world of colour.
'It feels like a lava lamp, where thought come and go, or even become focussed'.
In addition to the visual stimulation, the app offers excellent sound. Based on scientific studies, nine ambient tracks were created using spherical and harmonic sounds, carefully formulated down to the last detail for the perfect sound experience. Paired with binaural beats, the app has yet another advantage – these can be used to positively influence brainwave patterns. The so-called technique of 'brainwave entrainment' is scientifically recognized, and presents further possibilities for acoustic stimulation. The app is available now for iOS on the App Store and for Android on the Google Play Store for €3.49. VR headsets for smartphones can now be purchased cheaply anywhere. The app is operated without a remote control, which makes the choice of headset even easier. If this has awoken your curiosity, you should – true to the slogan – 'reboot your mood': shut down your system and start over again. Have fun testing it out – it's worth it.